Op zoek naar een geschikte locatie?
Bij Culturele Centra Gilze en Rijen is iedereen van harte welkom. Met 35 multifunctionele ruimtes en een totale capaciteit van 2 tot 500 personen is het mogelijk om een grote diversiteit aan evenementen te huisvesten. Organiseert u binnenkort een congres, presentatie, vergadering, condoleance, beurs, netwerkbijeenkomst, feest of evenement waarvoor u op zoek bent naar een locatie?
Bij CC de Boodschap zorgen wij ervoor dat het u en uw gasten aan niets ontbreekt. Vraag ons eventbook op via reserveringen@ccgr.nl, hierin laten we zien welke horecamogelijkheden wij in huis hebben. Ons team maakt graag een voorstel op maat, passend bij u wensen en het thema van uw evenement. Wij denken graag met u mee.
U bent bijvoorbeeld van harte welkom voor een heerlijk kopje Douwe Egberts koffie, kopje thee of een verkoelend glaasje frisdrank. Wij serveren ook een breed assortiment aan bieren van de tap of uit de fles en uiteraard diverse smaakvolle wijnen van een lokale leverancier.
Culturele Centra Gilze en Rijen werkt samen met de beste cateraars uit de regio en heeft voor ieder budget en wens iets te bieden. Samen met u kijken wij naar de mogelijkheden voor de perfecte culinaire invulling van uw evenement.
Naast de eerder omschreven buffetten, zijn er nog tal van andere opties die uw bijeenkomst compleet maken. U kunt hierbij onder meer denken aan een brunch, high tea, uitgeserveerd diner, walking dinner, amuse parade en een BBQ.
Reviews
Review van Werkgevers Steunpunt Midden-Brabant november 2022: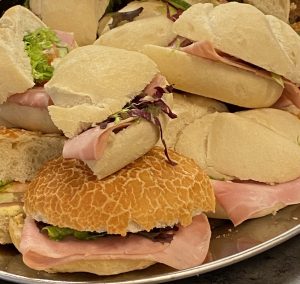 "Ik wil je namens onze organisatie en alle deelnemers nogmaals bedanken voor de goede zorgen van gisteren. Iedereen was dik tevreden over de ruimtes en ook het eten. Ook fijn hoe jullie mee schakelden met de calamiteiten rondom onze spreker. Tof! Een extra compliment (heb ik van meerdere mensen gehoord) over "de makeover" van jullie gebouw. Bij veel mensen was een ander beeld blijven hangen en die waren heel blij verrast. Echt goed gedaan dus!"